Transfer files to your ​S3 account and browse the S3 buckets and files in a hierarchical way as you are used to with other remote file systems supported by Cyberduck. For a short overview of Amazon S3, refer to the Wikipedia ​article.
Connecting to Amazon S3
You must obtain the login credentials (Access Key ID and Secret Access Key) of your Amazon Web Services ​Account from the AWS Access Identifiers ​page. In the login prompt of Cyberduck upon connecting to S3 you enter the Access Key ID for the username and Secret Access Key for the password.
Buckets
To create a new ​bucket for your account, choose New Folder... from the File menu. You can choose the bucket location in the Preferences (either US or Europe). Note that Amazon has a different pricing scheme for the two locations. Important: Because the bucket name must be globally unique the operation might fail if the name is already taken by someone else (E.g. don't assume any common name like media or images will be available.
Due to limitations by the design of the Amazon S3 file system, you cannot create folders anywhere else than the root. You can however upload folders and these are browsable like on a regular remote server.
Access Control
Amazon S3 uses Access Control List (ACL) settings to control who may access or modify items stored in S3. By default, all buckets and objects created in S3 are accessible only to the account owner.
You must give Other read permissions for your objects in File → Info → Permissions to make them accessible using a regular web browser for everyone.
CloudFront Distribution
You can enable cloud front distribution using File → Info → Distribution. You must ​signup for Amazon CloudFront first. Make sure your objects in the bucket you want to enable distribution for are world readable (in File → Info → Permissions Other must have the Read checkbox toggled on).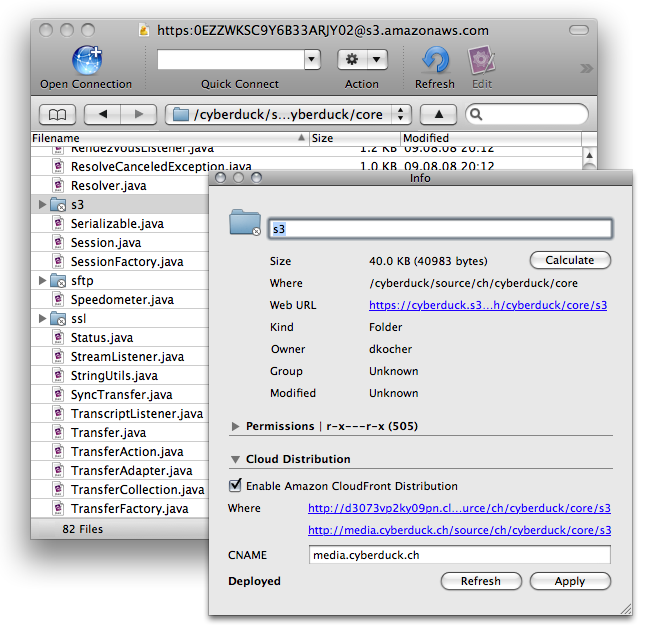 Multiple CNAMEs for CloudFront distribution
Using File → Info → Distribution you can enter multiple CNAMEs for your bucket distribution. The hostnames must be space delimited.
Hidden Options
Create a publicly available auto-expiring signed URL. A private object stored in S3 can be made publicy available for a limited time using a signed URL. The signed URL can be used by anyone to download the object, and after a chosen time the URL will no longer work.
Set the property s3.url.public to true and choose the lifetime of the URL using s3.url.expire.seconds.
defaults write ch.sudo.cyberduck s3.url.public true

Using Edit → Copy URL for a given file will then create a signed URL.
Cache Control Setting
Bucket Access Logging
When this option is enabled in the Info panel of a bucket or any file within, available log records for this bucket are periodically aggregated into log files and delivered to <bucketname>/logs.
Citing the Amazon S3 ​documentation: An Amazon S3 bucket can be configured to create access log records for the requests made against it. An access log record contains details about the request such as the request type, the resource with which the request worked, and the time and date that the request was processed. Server access logs are useful for many applications, because they give bucket owners insight into the nature of requests made by clients not under their control. 'There is no extra charge for enabling the server access logging feature on an Amazon S3 bucket, however any log files the system delivers to you will accrue the usual charges for storage (you can delete the log files at any time). No data transfer charges will be assessed for log file delivery, but access to the delivered log files is charged for data transfer in the usual way.
CloudFront Access Logging
When this option is enabled in the Info panel of a bucket or any file within, the access logs of the enabled distribution are written to <bucketname>/logs. The changes to your distribution's logging configuration take effect within 12 hours.
Citing the Amazon CloudFront ​documentation: Access logs are activity records that show you details about every request delivered through Amazon CloudFront. They contain a comprehensive set of information about requests for your content, including the object requested, the date and time of the request, the edge location serving the request, the client IP address, the referrer and the user agent. Access logging is an optional feature of CloudFront. There is no extra charge for enabling access logging. However, you accrue the usual Amazon S3 charges for storing and accessing the files (you can delete them at any time). With CloudFront logging (unlike with Amazon S3 server access logging), you also accrue Amazon S3 data transfer charges for each log file that CloudFront writes to your bucket.
Attachments
(13)
Download all attachments as: .zip
Download in other formats: